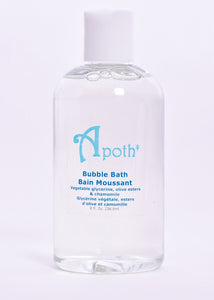 Scent: Chamomile Essential Oil - 
Chamomile has a sweetish, warm and spicy scent.
This product contains no sodium lauryl sulfates, DEA, parabens or harsh detergents. Your skin will feel soft when conditioned with olive esters, vegetable glycerin and chamomile, making it a premium product.
KEY INGREDIENTS
Vegetable Glycerine

Chamomile Essential Oil

Olive Esters
VEGETABLE GLYCERIN:
Glycerin, also called glycerol, can be used on all types of skin including oily skin. It is used to treat many oily skin conditions, like acne, skin infections, wrinkles and fine lines.  Glycerine attracts moisture onto your skin which is why it is considered a humectant. Glycerin is an emollient, making skin not only moist, but soft and supple to the touch. It gives you moisturized skin without any side effects.  Glycerin suits most people and the effects of glycerin on skin are healthier. It can provide a more attractive, natural-looking appearance.
Moisturizing: Glycerin acts as a very effective moisturizer on the skin. It makes your skin absorbs water from air reducing the dry and dull patches on your skin. It's therefore very useful in winters as well. You will feel your skin getting soft, supple and hydrated immediately upon its application. It adds hydration and health to your skin. Glycerin is also known for its meditative properties that work to heal dry, rough and irritated skin.
Smoothing: As the skin ages, it looks dull and is susceptible to irritation, redness and many other conditions, such as dry skin due to losing its ability to retain moisture. With aging, your skin gets rough – but using glycerin regularly can make your skin smooth and prevent other problems associated with dryness. This also helps in smoothing your skin and face by filling in the tiny cracks in the dry skin.
Maintains Water Balance:  Humectants in glycerin attract water from air and help in retaining water in the skin. When glycerin or glycerol is applied to the skin, it minimizes water loss due to evaporation and maintains the skin's water balance on an intercellular level– so it keeps the skin well hydrated and nourished.
Nourishes Skin: Because of its skin nourishing properties, glycerin can be used every day. Its regular use will help to keep your skin healthy, soft and fresh.
Enhances Skin Appearance: Glycerin acts as an emollient that keeps your skin not only moist, but soft and supple to the touch. It makes your skin look healthier and attractive, devoid of the scaly appearance and other characteristics of dry skin. 
Heals Skin:  Glycerin is able to guide cells to grow and mature more effectively, thus helping the skin heal. Glycerin also acts as a natural medication for fungal infections like eczema and psoriasis,  helping the infected tissue and cells to repair themselves more quickly.
Protects Skin:  Glycerin increases the thickness of the epidermal layer and improves barrier function. It helps keep harmful chemicals and environmental elements out of the skin and locks moisture in.
CHAMOMILE ESSENTIAL OIL  
Chamomile induces a relaxed state. Studies have  also found that the inflammation-fighting flavonoids in chamomile essential oil are able to penetrate deep into the inner skin layers to calm inflammatory proteins, as well as fight free radicals that cause aging.
OLIVE ESTERS
Our Olive Esters are a multifunctional emollient made from the Ancient Olive. Olive Esters offer are outstanding emollient. One of its primary attributes is its ability to decrease irritation. 
Olive esters provides extraordinary hydrating performance and mildness and exhibits excellent film-forming properties.  Compatible with all skin types, including sensitive and reactive skin, Olive Esters offer extra nourishment and long term moisturizing effects.  Olive Esters are extremely proficient in avoiding dry and tense skin caused by over-cleansing or exfoliating.
PLEASE NOTE:  The gold will settle, turn the bottle upside down and shake until the gold had been distributed throughout the liquid.