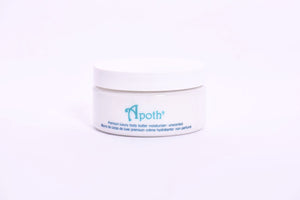 Unscented:
Paraben Free, Gluten Free & SLS Free
This is an intensive, rich, all-over body moisturizer that moisturizes dry and mature skin while providing a nourished look to your skin. This formulation is absorbed quickly, is easy to spread, and leaves no sticky feeling.
Made from some of the mildest, most natural ingredients, our Premium Luxury Body Butter does not compromise on quality.
INGREDIENTS
 Key Active Ingredients:
Vegetable glycerin

Shea Butter 

Beeswax

Coconut Oil

Jojoba Oil

Sunflower Oil 

Vitamin E
VEGETABLE GLYCERIN:
Glycerin, also called glycerol, can be used on all types of skin including oily skin. It is used to treat many oily skin conditions, like acne, skin infections, wrinkles and fine lines.  Glycerine attracts moisture onto your skin which is why it is considered a humectant. Glycerin is an emollient, making skin not only moist, but soft and supple to the touch. It gives you moisturized skin without any side effects.  Glycerin suits most people and the effects of glycerin on skin are healthier. It can provide a more attractive, natural-looking appearance.
Moisturizing: Glycerin acts as a very effective moisturizer on the skin. It makes your skin absorbs water from air reducing the dry and dull patches on your skin. It's therefore very useful in winters as well. You will feel your skin getting soft, supple and hydrated immediately upon its application. It adds hydration and health to your skin. Glycerin is also known for its meditative properties that work to heal dry, rough and irritated skin.
Smoothing: As the skin ages, it looks dull and is susceptible to irritation, redness and many other conditions, such as dry skin due to losing its ability to retain moisture. With aging, your skin gets rough – but using glycerin regularly can make your skin smooth and prevent other problems associated with dryness. This also helps in smoothing your skin and face by filling in the tiny cracks in the dry skin.
Maintains Water Balance:  Humectants in glycerin attract water from air and help in retaining water in the skin. When glycerin or glycerol is applied to the skin, it minimizes water loss due to evaporation and maintains the skin's water balance on an intercellular level– so it keeps the skin well hydrated and nourished.
Nourishes Skin: Because of its skin nourishing properties, glycerin can be used every day. Its regular use will help to keep your skin healthy, soft and fresh.
Enhances Skin Appearance: Glycerin acts as an emollient that keeps your skin not only moist, but soft and supple to the touch. It makes your skin look healthier and attractive, devoid of the scaly appearance and other characteristics of dry skin. 
Heals Skin:  Glycerin is able to guide cells to grow and mature more effectively, thus helping the skin heal. Glycerin also acts as a natural medication for fungal infections like eczema and psoriasis,  helping the infected tissue and cells to repair themselves more quickly.
Protects Skin:  Glycerin increases the thickness of the epidermal layer and improves barrier function. It helps keep harmful chemicals and environmental elements out of the skin and locks moisture in.
SHEA BUTTER:
The main chemical constituents of Shea Butter are: Oleic Acid, Stearic Acid, Palmitic Acid, Linoleic Acid, Cinnamic Acid Esters, Allantoin, and Polyphenols (Tocopherol/Vitamin E).
OLEIC ACIDS (OMEGA 9) are known to:
Maintain the softness, suppleness, and radiance of skin

Reduce the appearance of aging, such as premature wrinkles and fine lines

Exhibit antioxidant properties 
STEARIC ACID is known to:
Have cleansing properties that purge dirt, sweat, and excess sebum from the skin

Help products remain potent when stored for long periods of time

Soften skin
PALMITIC ACID is known to:
Have emollient properties

Be the most common saturated fatty acid 
LINOLEIC ACID (OMEGA 6/Vitamin F) is known to:
Facilitate wound healing

Exhibit anti-inflammatory properties

Soothe acne and reduce chances of future outbreaks

Promote moisture retention in skin

Soothe and promote the healing of skin conditions like eczema and dermatitis

Slow the look of premature aging
CINNAMIC ACID ESTERS are known to:
Have SPF (Sun Protection Factor) properties that make it act as natural sunscreen

Soothe inflammation, irritation, and redness

Contribute antioxidant properties

Promote cell regeneration, making skin look rejuvenated
 ALLANTOIN is known to:
Contribute protective and regenerative properties to skin that facilitate wound healing

Effectively soften skin and soothe irritation

Stimulate cell regeneration, thereby promoting the growth of healthy skin and tissue

Be an effective moisturizing agent

Be gentle and non-irritating, making it ideal for use on sensitive or irritated skin

Increase the water content of cells, making it an ideal ingredient for anti-aging products

Enhance skin's texture, making it smoother
 POLYPHENOLS are known to:
Soften skin

Exhibit antioxidant properties that slow the look of aging

Protect against harmful UV radiation

Boost skin cell regeneration and elasticity, thereby enhancing overall skin quality

Promote greater circulation and oxygen to the skin

Have antioxidant properties that slow the look of aging and boost circulation

Repair scarred and blemished skin

Prevent moisture loss from skin and hair

Offer soothing relief to skin that has been burned

Deeply cleanse pores and balance oil production
 VITAMIN A is known to:
Protect skin against damage caused by UV radiation

Slow the appearance of aging by smoothing wrinkles and fine lines

Stimulate production of collagen

Stimulate cells regeneration to keep skin healthy, strong, and firm

Facilitate faster healing of wounds

Protect skin against toxins and bacteria and promotes cell production, thus boosting immunity

Lighten unwanted blemishes and dark spots, thus balancing skin tone to create an even glow

Slow the production of oil in the skin and clears pores, thereby preventing acne breakouts
As illustrated, Shea Butter is reputed to have many therapeutic properties. The following highlights its many benefits and the kinds of activity it is believed to show:
COSMETIC: Anti-Inflammatory, Regenerative, Anti-Aging, Hydrating, Skin-Conditioning, Softening, Smoothing, Restorative, Collagen-Boosting.
MEDICINAL: Anti-Inflammatory, Regenerative, Anti-Microbial, Anti-Fungal, Stimulating, Restorative, Circulation-Boosting.
BEESWAX:
Beeswax is one of the best natural remedies you can use for your skin. Here are just a few of the reasons as well as some of the excellent benefits it can bring.
Natural beeswax is formed almost entirely of fatty acids and chain alcohols and includes large amounts of oleate esters, hydroxypalmitate, palmitate, and palmitoleate. These ingredients blend to produce properties that make beeswax key for maintaining skin texture and health. The ability to keep moisture in the skin and the high vitamin A content stimulate the production of skin cells while keeping the skin insulated from environmental dangers. Beeswax also brings to the skin the necessary antioxidants for a healthy complexion.
Beeswax brings to your skin each of these healthy effects in a package that is completely natural. Even when processed, beeswax is still active biologically and preserves anti-inflammatory, germicidal, antibacterial, and anti-allergenic properties, making it the chosen solution for many skin disorders.
Dry Skin
Its ability to trap moisture keeps the skin lubricated and refreshed. These emollient properties and rich vitamin A content boost skin cell production, thus giving the skin a healthy and restored impression. This beeswax moisture not only heals dry skin but is also highly effective in preventing the loss of moisture that produces dry skin.
Eczema
Eczema is a condition causing an itchy rash that forms on the skin. It is especially rampant in the colder months of the year when the skin is dryer. The antiseptic and medicinal properties of beeswax keep this infection from spreading while actively working to eliminate it. 
Stretch Marks
Pregnancy, weight gain, or weight loss often produce ugly stretch marks on the skin. Mixing apricot kernel oil, wheat germ oil, cocoa butter, and vitamin E oil into your beeswax produces a solution that both naturally prevents and heals these stretch marks.
While being applied as the remedy to these skin conditions, beeswax has the double benefit of giving cosmetic restoration. The high levels of Vitamin A encourage production of skin cells giving your skin a healthy, smooth look. Beeswax also enjoys being used widely for cuts, burns, and other wounds making it the perfect ingredient for healing salves.
COCONUT OIL:
Coconut is an excellent skin moisturizer
Coconut oil melts on the skin as soon as you apply it, without leaving any kind of residues. It easily seeps into the skin pores, moisturizing deeply and thoroughly.
Coconut oil acts as an antibacterial shield
The antibacterial properties of coconut oil protect the skin from potential pathogens. More importantly, it can reduce the risk of bacterial infections. It is mainly the lauric acid in the coconut oil that acts as the antibacterial agent. This medium chain fatty acid constitutes 85% of the coconut oil.
Coconut oil offers protection from sunburn
Coconut oil offers some protection against solar radiation. With SPF 4, coconut oil may not keep you safe during a full day on the beach, but if you apply it on your skin before stepping out of the house, you can escape the effects of solar radiation during brief periods out in the sun. Also, if you have been in the sun without any kind of protection, applying coconut oil immediately afterward reduces the damage.
The ultraviolet rays of the sun damage the skin cells, triggering the formation of a large number of free radicals that can do further damage to cellular DNA. But the antioxidant action of coconut oil can reduce the oxidative stress and stop the chain reaction. Coconut oil has a soothing effect on burnt skin and goes to work right away to reduce inflammation and pain.
Coconut oil prevents premature aging
Premature aging of the skin is a result of oxidation stress due to UV rays, environmental pollution, and injuries caused to the skin by rough handling and use of harsh chemicals.
Coconut oil can prevent premature aging in several ways. It is gentle on the skin as a moisturizer and exfoliates without abrading the skin. When applied it keeps the skin smooth and supple by promoting collagen formation. 
JOJOBA OIL:
Jojoba oil is an odorless, golden-colored liquid wax that is produced from the seed of the jojoba plant (simmondsia chinensis).
jojoba oil's benefits to the skin
The properties of jojoba oil makes it potent and convenient for use in skin care. It absorbs easily into the skin, and delivers hydration and an intense moisturizer. It's easy to mix in with other ingredients because it has no scent, and because it's so light.
Benefits of jojoba include:
Long-lasting moisture: Studies have documented that jojoba improves the feel of skin, and provides a substantial long-acting, 24-hour skin hydration effect.
Nutritious: Jojoba contains nutrients like vitamin E and B, as well as minerals like chromium, copper, and zinc, which all nourish and protect skin from environmental stressors.
Gentle: Jojoba is recommended for people with sensitive skin because of its gentle nature. Applying jojoba to compromised skin can help keep it moist.
Anti–aging: Because it is the perfect moisturizer, jojoba can help reduce the appearance of fine lines and wrinkles.
Conditioning: Jojoba is also used in many hair products because its moisturizing and conditioning properties extend to the hair, making it soft, shiny, and manageable. Those with frizzy or damaged hair love jojoba.
SUNFLOWER OIL:
Sunflower oil extracted from sunflower seeds is commonly used in cosmetic products as an emollient. Sunflower has been demonstrated to be effective in alleviating a number of skin conditions including dryness, acne, sun damage and sun damage. Its efficiency comes from a compound called beta-carotene, which is commonly found in fruits and vegetables. In addition, sunflower oil is rich in antioxidants that help in elimination of free radicals and toxins responsible for certain skin issues due to cell damage. 
Prevents Premature Aging
Sunflower oil contain compounds that protects collagen and elastin (skin's connective tissues) giving a more youthful appearance.
Prevents Sun Damage
Exposure to sunlight and environmental conditions accounts for most skin problems that people experience. It's very unfortunate because the environment contains large quantities of free radicals responsible for triggering certain types of cancer, including skin cancer. The good news is that by applying sunflower oil topically on your skin, you will create a protective layer to shield environmental toxins and harmful rays of the sun.
Prevents Infections
Sunflower oil is loaded with essential fatty acids, including omega-6, which have been shown to be effective in eliminating skin infections like dermatitis and sunburns. In addition, this oil comes with antioxidant and anti-inflammatory properties. It also contains linoleic acid which works along with omega-6 fatty acid to help in cell regeneration. This means that other than creating a protective layer to prevent bacteria infections, sunflower oil when applied topically also helps in skin rejuvenation. Regular use of sunflower oil can also result in radiant and glowing skin.
VITAMIN E:
Is an antioxidant superstar. Benefits include enhancing the efficacy of active sunscreen ingredients, reducing the formation of free radicals from exposure to UV rays, promoting the healing process, strengthening the skin's barrier function, protecting the skin barrier's lipid balance, and reducing trans epidermal water loss.