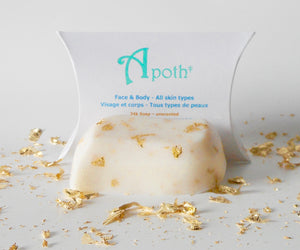 Net weight 99.2 g 3.5 Oz.
INGREDIENTS:
24 karat gold leaf 999/1000: Small particles of gold are absorbed by the skin, transdermal.
 Potential effects:
Wrinkles, fine Lines, spots can be reduced

Stimulates the skin cells

Premature aging of the skin can be prevented

Gold can lighten the complexion

Collagen depletion is slowed down

Sun damage can be treated

Inflammation can be treated

Elasticity of the skin can be increased
SOAP BASE:
Made using natural, exotic butters - Cocoa, Mango and nourishing Shea Butter. SLS and SLES-free, this soap base is super emollient, and soothes and moisturizes your skin with this wonderful combination. 
Glycerin is a natural emollient, a by-product of soap making, which draws moisture out of the air to benefit the skin's health. It cleanses without stripping or upsetting the delicate natural pH balance necessary for soft, healthy skin. Even with the use of rich botanic butters, this soap rinses clean and leaves no soapy film behind. 
Soap bases are produced with the highest quality, double-distilled and deodorized clear coconut oil to form luxurious lather.
Features:
Fantastic creamy lather

Helps moisturize dry skin

High in natural emollients
Key Active Ingredients:
Cocoa Butter

Vegetable glycerine

Mango Butter

Shea Butter

Avocado Oil

Full Spectrum raw Vitamin E
Avocado Oil
Description: Avocado Carrier Oil contains Vitamins A, B1, B2, D, E, and Beta carotene. It is classified as a monounsaturated oil and is best suited for dry skin conditions in topical applications.
Effects of Topical Vitamins:
Vitamin A:
Thickens and stimulates the dermis – where your collagen, elastin and blood vessels are – so it reduces wrinkles and increases blood flow to the surface of the skin. Vitamin A actually increases the deposition of collagen; therefore it slows the normal aging breakdown of your collagen and elastin. Is considered a thorough exfoliator, and this repeated shedding of the upper dermal layer forces the skin to produce new cells and stimulate collagen production.
Vitamin B:
Will help heal damaged complexion when applied topically.
Vitamin C:
Topical vitamin c have beneficial effects on skin cells, and some studies have shown that vitamin C may help prevent and treat ultraviolet (UV)-induced photodamage.
Vitamin E:
Is an antioxidant superstar. Benefits include enhancing the efficacy of active sunscreen ingredients, reducing the formation of free radicals from exposure to UV rays, promoting the healing process, strengthening the skin's barrier function, protecting the skin barrier's lipid balance, and reducing trans epidermal water loss.
Vitamin D:
Vitamin D plays an integral role in skin protection and rejuvenation.
In its active form as calcitriol, vitamin D contributes to skin cell growth, repair, and metabolism. It optimizes the skin's immune system and helps destroy free radicals that can cause premature aging.
While the body can produce vitamin D on its own through sun exposure, too much sun accelerates skin aging. Over time, it can damage the skin, leading to wrinkles, sun spots—and increased risk of skin cancer.
Age, skin color, geographic latitude, seasonal variations in sunlight availability, and sunscreen use make it difficult for your body to produce all the vitamin D it needs.
Much of the vitamin D produced in the skin is also taken up and used by other systems of the body.
Between the ages of 20 and 70, your skin loses about 75% of its ability to produce vitamin D3—the metabolic precursor to calcitriol.
Topical vitamin D application can exert a protective and rejuvenating effect on aging skin.
Beta Carotene:
Increase cell turn-over and regeneration in the outer layers of the skin. Topical application of beta-carotene can enhance the appearance of the skin by restoring suppleness and adding a "glowing" pigment that seemingly evens out the skin tone. Beta-carotene's antioxidant attributes, such as sun damage protection, are used to prevent the signs of aging in the skin; Beta-carotene's corrective properties are used to help heal scratches and prevent scarring.
Full spectrum raw Vitamin E:
Vitamin E plays a crucial role in protecting skin cells and membranes from environmental damage. This protection extends to preventing damage to the skin from UV rays, pollutants and the effects of aging. The d-alpha-tocopherol also protects against lipid peroxidation, which helps to reduce the appearance of wrinkles. This form of Vitamin E is GMO-free and gluten-free. Full spectrum raw Vitamin E is a natural antioxidant.